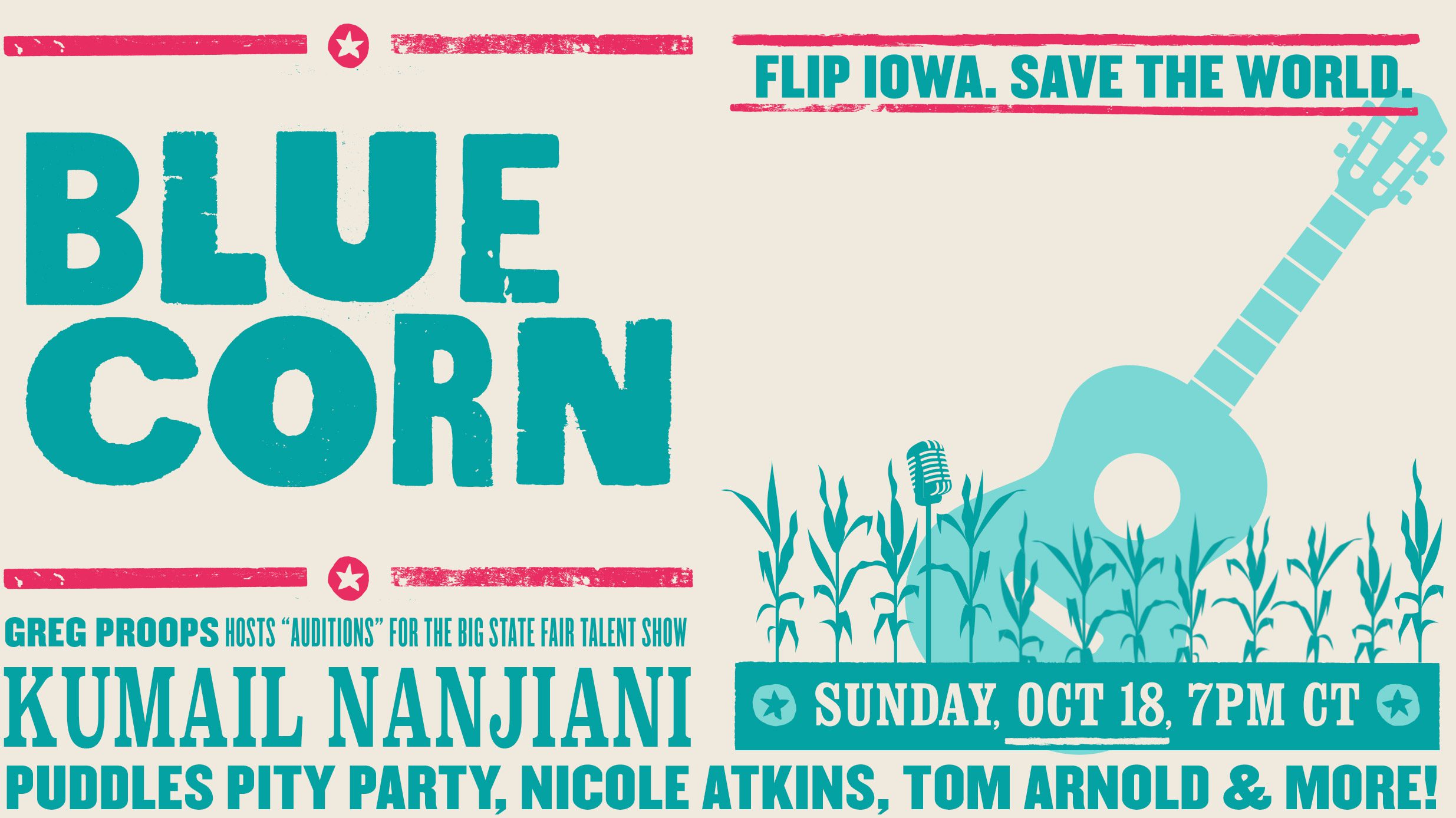 07 Oct

Native Iowan Entertainers to Host State Fair-Themed Virtual Fundraiser Oct. 18th to Flip State House Blue

Emceed by Greg Proops the Event Features Talent Show "Audition Tapes" from Musical Artists Nicole Atkins and Lissie, Actor/Comedians Tom Arnold and Toby Huss, Ex-Nebraska Governor Bob Kerrey, plus a reunion of Duck's Breath Mystery Theatre and More 

A group of native Iowan actors, musicians and comedians are using the State Fair as a theme for a "Blue Corn" virtual event to raise funds to flip the Iowa Statehouse blue in the upcoming election. The variety show-flavored, online event will feature faux video auditions for a talent show and will take often comedic cracks at various seminal numbers, some from musicals with Iowa roots.

A partial list of performers includes comedian/actor Tom Arnold (Ottumwa), musical artists Lissie (Decorah resident) and Nicole Atkins, actor Toby Huss (Marshalltown) from HBO's Carnivale, AMC's Halt and Catch Fire, and Nickelodeon's Pete and Pete, actor Jefferson White (Mt. Vernon) from Yellowstone, hip hop artist and political activist MarKaus (Des Moines) and musical artist Annalibera (Des Moines).  The evening will also include a rare reunion from members of Duck's Breath Mystery Theatre  a beloved Iowa sketch comedy troupe from the '70s/'80s that performed all across America and made regular appearances on National Public Radio.

While many of the performers originally hail from the Hawkeye state, they're enlisting help from out of state pals including golden voiced clown Puddles Pity Party and ex-Nebraska Governor and Senator Bob Kerrey, who promises revised election year lyrics for the famed song "Til There Was You."  The emcee will be Arizona native and comic podcaster Greg Proops who humbly calls himself "the smartest man in the world."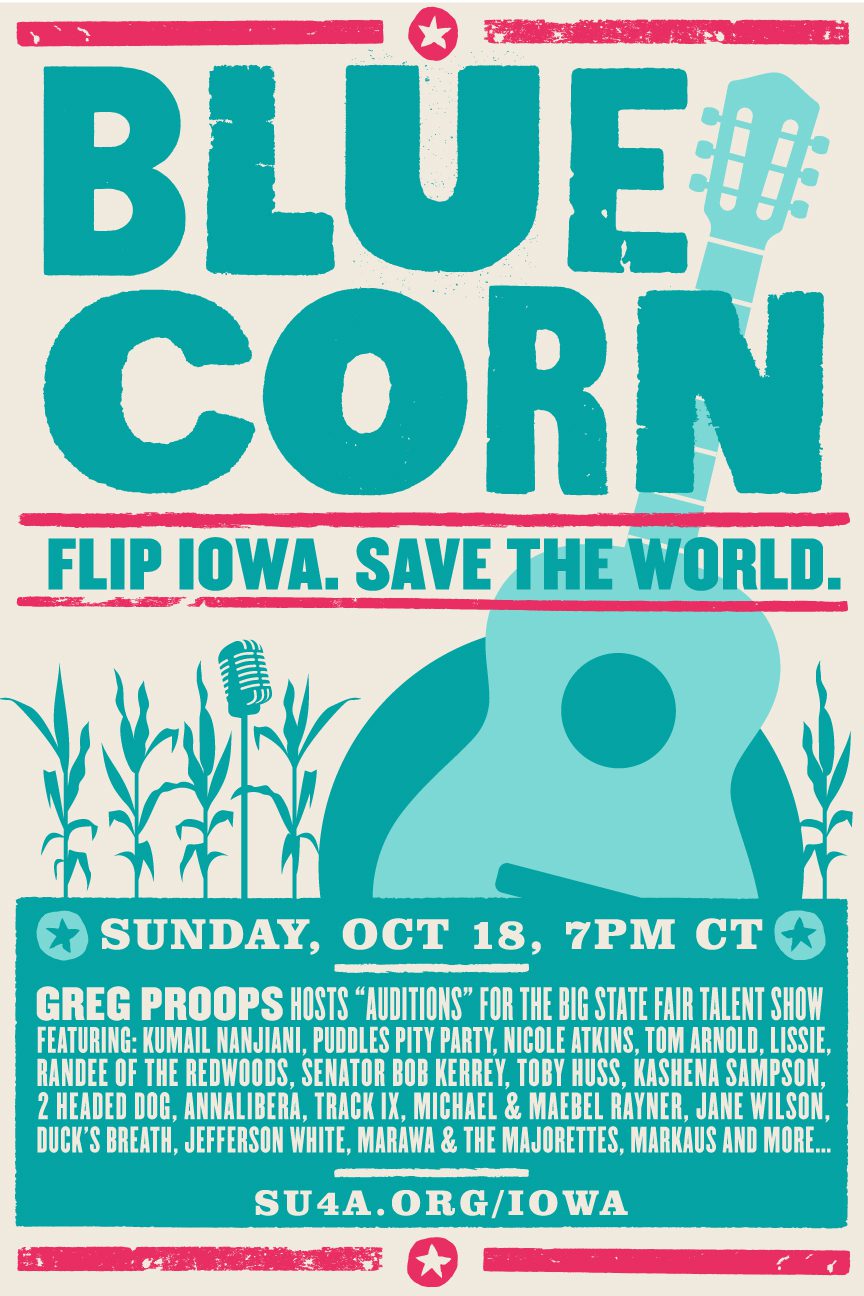 "
Like many Iowans and ex-pats, we mourn the cancellation of this year's State Fair talent show so we called in all our chits to get as many auditions as possible; the benefit will be a fun evening of musical stylings often gone wrong with many surprises in store," promises Jim Turner.  Turner, the organizer and talent wrangler, is also a member of the Duck's Breath troupe as well as 2 Headed Dog, an LA-based sketch comedy group that's also taking part.
Proceeds will benefit the Iowa House Truman Fund as well as Field Team 6 which funds voter registration efforts nationwide.
Organizers hope their event will help Democratic Iowa house candidates. "While it's a Democratic fundraiser, nobody's working blue," said Turner.
Visitors during the talent show event can watch funds be tallied not on a tote board but a silo filling with cold, hard "corn."
The hour-plus virtual event will kick off at 7 p.m. CT on Sunday October 18th.  All can enjoy the festivities at one of several donation levels.   For more information, visit www.Su4a.org/iowa.